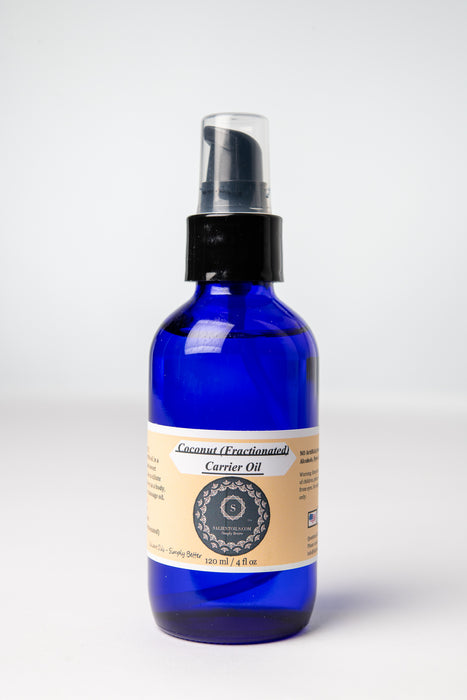 Coconut Carrier Oil 4floz
Universal carrier oil for all skin types.
Cobalt blue glass bottle with treatment pump.
Ingredients: Cocos nucifera (Coconut, fractionated) oil
Country of Origin : Malaysia
Carrier oils are vegetable oils derived from the fatty portion of a plant, usually from the seeds, kernels or the nuts. Mix the carrier oil with essential oils, or use alone. Carrier oils are used to dilute essential and other oils prior to topical application. 
Coconut oil is an edible oil made from the meat of mature coconuts. It's available in refined or unrefined varieties.
Unrefined coconut oil comes from fresh coconut meat. It's not processed with chemicals and retains its coconut aroma and flavor.
Refined coconut oil comes from dried coconut meat, also called copra. It's bleached and deodorized to remove contaminants, as well as the distinct coconut aroma and flavor. Refined coconut isn't all-natural and isn't recommended for use as a carrier oil.
Uses: Coconut oil contains skin-nourishing fatty acids and polyphenols, which make it a great carrier oil for massage oils and skin care preparations.